This is a complete guide to getting your Adsense PIN via post office in Nigeria.
I realised many are faced with challenges getting their Adsense PIN delivered to them here in Nigeria after sailing through the strict approval process. Who do we blame here (Post office, Adsense, You).
Well, majority of the blame goes to you (for not doing the right thing) and a minute part to Post office (at times they seems to neglect their duties).
let's get started
Two important things to make this a success
(1) Get a functional
P O Box
(a post Office/ a church) close to where you reside/live
Click here for all Nigeria Postal Codes
(2) Your Phone Number
Go-to setting:
Click on Payment > Manager Setting > Payments Profile
Fill the form using the format below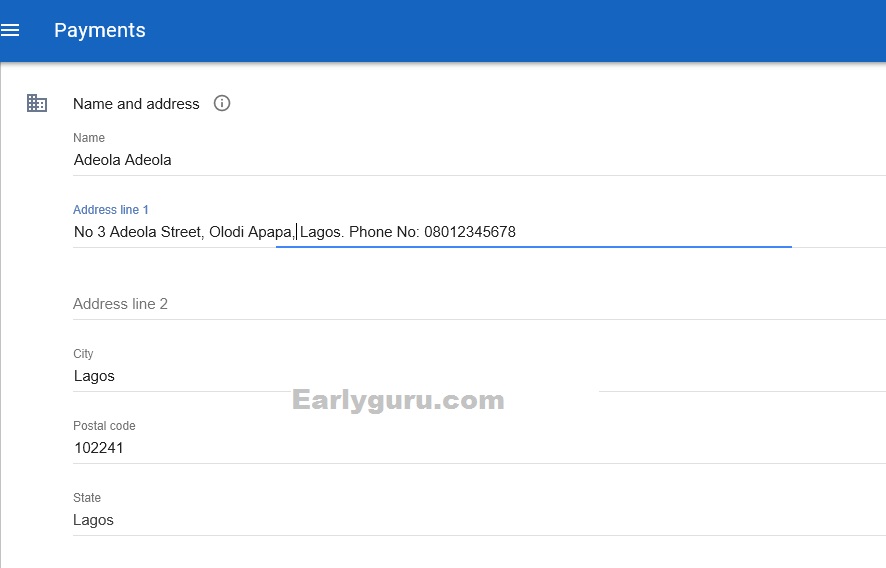 Note:
Why is it important to add a P O Box to your address?
As we all know, locating a street/house address can be quite challenging here in Nigeria. When you add a functional Box address, your mail will be sent directly to the place (and if it's a post office, they'll handle the delivery) by sending you a text message or a call via the number you included in your address.
I most cases, they won't come to your house to deliver your letter, so, if you don't hear from them, go there to ask them yourself.
If there is anything that is not clear to you, drop your questions below!
You can also shoot me a mail if you want me to help you get your Adsense pin
Click Here To Email Me