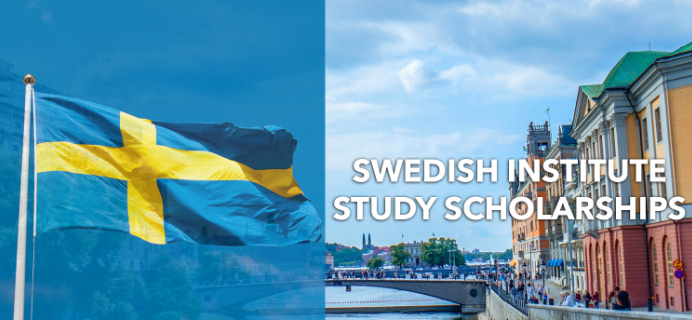 The Swedish Institute Study Scholarships (SISS) programme is the Swedish government's international awards scheme aimed at developing global leaders. It is funded by the Ministry for Foreign Affairs of Sweden and administered by the Swedish Institute (SI). The Scholarships are awarded to students from selected countries for full-time master's level studies in Sweden starting in the Autumn semester 2018.
Funded By:
Swedish Government
Scholarship To be Taken At
:
Swedish Higher Education Institutions and Swedish Universities
Available Scholarship Level:
Masters
Available Courses
:
Click here to view the list of available programme
Number of Scholarships
:
An estimated 180 scholarships will be available.
Eligible Countries
:
Students from SISS-eligible countries:
Category 1: Afghanistan, Bangladesh, Burkina-Faso, Cambodia, the Democratic Republic of Congo (DRC), Ethiopia, Kenya, Liberia, Mali, Mozambique, Myanmar (Burma), Rwanda, South Sudan, Sudan, Tanzania, Uganda, Zambia and Zimbabwe.
Category 2: Brazil, Colombia, Egypt, Ghana, Indonesia, Iran and Vietnam
Category 3: Candidates with citizenships from countries on the DAC list of ODA recipients other than the above mentioned and those countries included in other SI scholarship programmes
Special Initiative: South Africa
Scholarship Value
:
The Scholarship covers tuition fees directly paid to the Swedish university, living expenses of SEK 9,000/month, a one-time payment travel grant of SEK 15,000, Insurance against illness and accident.
Note: The scholarship does not cover: (i) Additional grants for family members. (ii) Application fee to University Admissions.
Duration:
The scholarship is intended for full-time one-year or two-year master's programmes, and is only awarded for programmes starting in the autumn semester. The scholarship is granted for one academic year (two semesters) at a time. It will be extended for programmes longer than two semesters, provided that the student has passed his/her courses/credits.
The scholarship period cannot be changed or extended beyond the awarded scholarship period, nor can the scholarship be transferred to a study programme other than the awarded master's programme.
Eligibility
:
Applicants must have have minimum of 3,000 hours of demonstrated full-time or part-time employment, voluntary work, paid/unpaid internship, and/or position of trust.
Applicants must have demonstrated leadership experience from employment, voluntary work, and/or internship after high school studies.
Applicants must be required to pay tuition fees to the universities, have followed the steps of university admission, and will be admitted to one of the eligible master's programmes by 6 April 2018.
Application Instructions and Other Information
Visit Official Scholarship Website:
Click Here